Children's Choir Sings a Joyful Song to the Lord
Our youngest musicians in the Carol and Junior Choirs harmonize and bring to our worship beautiful, joyful music. The children meet weekly to learn and practice new songs. Even during the pandemic, they meet and sing on Zoom. At a practice session one will see and experience the following: prayer, breathing exercises, stuffed animals singing with happy children, and discussion about upcoming Pentecost - including a short, animated video telling how God sends the Holy Spirit and that Pentecost is the birthday of the church. The children sing Happy Birthday to the church and learn a new song titled 'Wind Song.' Practice ends with the children wonderfully singing in parts, 'Go Now in Peace.'

Meet some of our dedicated and talented young musicians:

How does music make you feel in church?
Annabelle - Music in church makes me feel comfortable.
Katie – That's a hard question because we haven't done that in a very long time, but it depends on the song. A sad song will make me feel sad, a happy song will make me feel happy.

What is your favorite church/choir song and why?
Haley and Jackson – "Welcome" by Mark A. Miller. We sang it in Carol Choir last year and it gets stuck in our heads all the time. It has a great message – that everyone is welcome to worship God!

What song do you think Jesus would like?
Katie – Easter songs when we are singing "Alleluia Jesus is Alive!" Or Christmas songs to celebrate His birthday!

What do you want to do when you grow up?
Jackson – A train engineer
Haley – A scientist at a zoo
Katie – A vet at a zoo
Josh – A YouTuber or game tester
Abby – A veterinarian
Annabelle – A teacher

What is your favorite activity on Saturdays?
Jackson – Build Lego!
Haley – Crafts
Katie – Biking outside
Josh – Playing Minecraft
Abby – Playing in lacrosse games
Annabelle – Playing tennis with my family and playing lacrosse

If you could go anywhere, where would you like to go?
Jackson – France to see the Eiffel Tower
Haley – The Grand Canyon
Katie – Paris
Josh – New York City
Abby – Paris or Hawaii
Annabelle – Paris

What do you like best about choir?
Jackson – I like the freeze dances!
Haley – That we can still participate in worship even though we are all apart.
Katie – I didn't think we could do it virtually this year, I'm so glad we got to do it.
Abby – What I like best about choir are the games.
Annabelle – I like practicing the songs best in choir.
---
Meet Choir Director Rebecca Elton
The Junior and Carol Choir Director is Rebecca Elton. Rebecca is a high school science teacher, and also an experienced and enthusiastic musician. The children and WPC are fortunate to have Rebecca and her gifts as director.

What brought you to this area and WPC?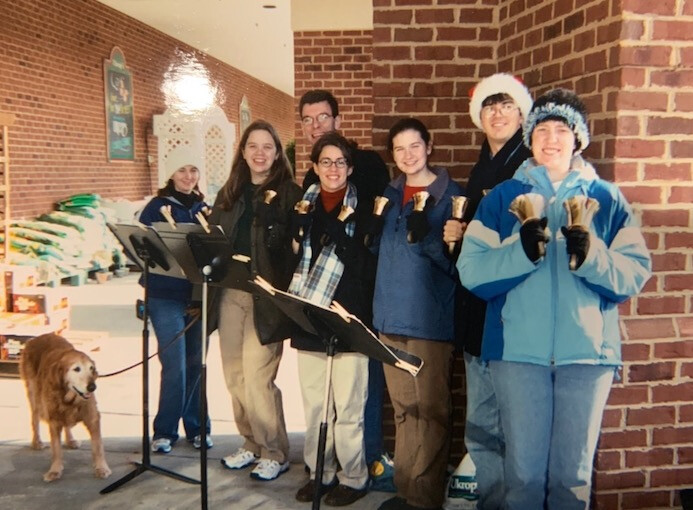 />
My family has strong ties to the Williamsburg area. Both of my maternal grandparents grew up in Williamsburg and attended Matthew Whaley ES. My Nana and Pop, along with a few aunts and uncles, attended William & Mary during various phases of their education. So, when it came time for me to apply for college, W&M was an obvious choice. As a student, I started attending services at WPC because my "Aunt" Eleanor Hile was a member. Soon, I became active in the Westminster Ringers (where I rang right next to Norman) and Westminster Fellowship (the precursor to UKirk). I was hooked! I've been a part of the WPC community ever since.

What is a favorite childhood memory? Did you sing in a choir?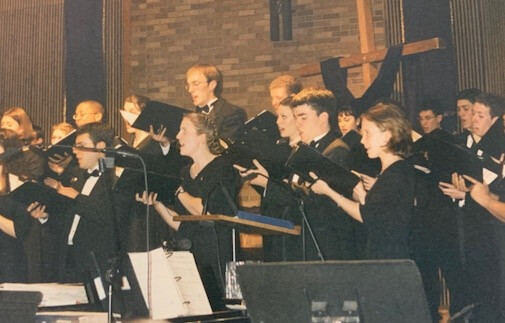 I have been active in church music for as long as I can remember. I rang in the chime choir at a very early age. I grew up singing and ringing in every ensemble available to me. I sang in choirs at school and at church throughout my high school career. You probably won't be surprised to learn that I led the music for VBS at my church. At W&M, I joined the William and Mary Choir and Pep Band and found a home away from home in Ewell Hall (the music department). After I graduated, I joined the Chancel Choir and the Sanctuary Ringers at WPC. Suffice it to say, music has always been an integral part of my life.

What is your favorite hymn or church camp song?
Oh, my goodness. There are so many songs that resonate with me and remind me of my connection to God and all God's children. Amazing Grace is a favorite because it reminds me of my Nana (Grace Minor Alford). Lord I Lift your Name on High holds special memories because I sang it for the first time when I attended my first youth group retreat. Lift High the Cross was always found on the bulletin when we planned Wesfel Sundays at WPC. How Firm a Foundation will always remind me of Jim Weaver. I sing All in All to my children as a lullaby. Other favorite hymn tunes include Jerusalem and Divinum Mysterium. Let's just say that when I say "Oh, I love this hymn!", Haley usually responds with "Mom, you always say that.…"

What do you enjoy the most as Director of the Children's Choir?
I enjoy teaching the children about the language of music – a language that is the first we learn and the last we forget. Once children are introduced to the fundamentals of music, it opens doors for them to play instruments, sing and dance throughout their lives. Music connects us to each other and to our Creator. I love to watch their faces when they participate in worship and really understand the message they are conveying with a certain anthem. I love to watch them learn how to worship and realize that they can use their specific gifts to bring glory to God.

Tell us about the children's choir training/seminar you attended. What has helped you the most?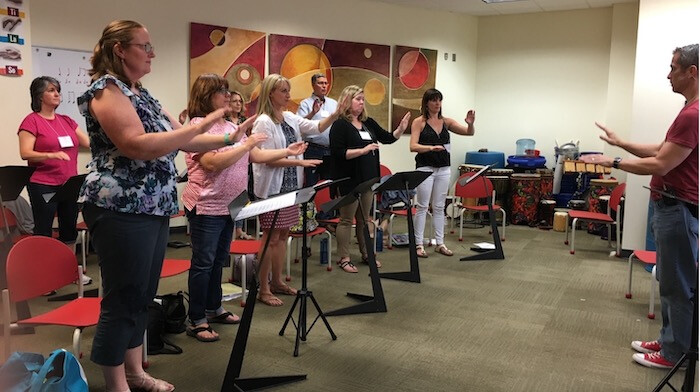 I first attended the Chorister's Guild Institute (CGI) in 2017. It is a three-year training program for leaders of children's and youth choirs. The fact that WPC was willing to fund my attendance at CGI for all three years speaks volumes about the value that this congregation puts on the children's music program. The experience was life-changing. Each year, I attended a week of classes that covered everything from conducting to anthem analysis to planning and running rehearsals. I learned a multitude of new warm-ups and musical games to use during rehearsals. I was introduced to a varied repertoire of anthems that spanned the liturgical calendar. There was so much to soak up in every class. But by far the most valuable part of my experience at CGI was the people with whom I connected. I was surrounded with amazingly talented musicians, composers, and educators. Now, even after graduating from the program and becoming a "Certified Director of Young Singers," I can contact any one of the network of friends I made at CGI when I need ideas or support.

What are the challenges for the choir since the pandemic and how are you overcoming them?
Oh my, where to begin? We overcame many challenges this year. We shortened the rehearsal time to account for the fact that the children were already "Zoomed out." I used my educator-acquired Zoom skills to share screens, play videos, share computer audio, and organize fast-paced virtual rehearsals that held up against the children's much shorter virtual attention spans. Norman became a pro at recording accompaniment on our home piano and converting it to the correct type of digital file. The parents learned how to be videographers. The children built up their confidence so they could sing by themselves and be recorded! Chris Bechtler mastered new video and audio editing software, which he used to put together the final product. None of our anthems would have been possible without everyone working together to get the job done! But all of these challenges pale in comparison with the biggest one. During rehearsal, the directors can't actually hear the children singing together. Live music making is one of Zoom's shortcomings. The children have to stay muted as they sing along with or echo the director. That means that I never knew what the children actually sounded like until Chris sent me the link to the final product. In that moment it inevitably became clear that the children, parents, and music staff at WPC were not the only ones doing the work – the Spirit was moving as well! Despite all the challenges, I have been really proud of the program that we put together this year. I'm so glad we figured out how to offer it virtually so that the children can continue to feel like they are part of the church community.

Give us ages for the choirs, when they meet and how does one join?
The Carol Choir is for children in K-2nd grade and the Junior Choir is for children in 3rd-5th grade. Both choirs traditionally rehearse on Thursdays after school throughout the school year. Contact Rebecca Elton if your child is interested in joining the Children's Choir program at WPC.