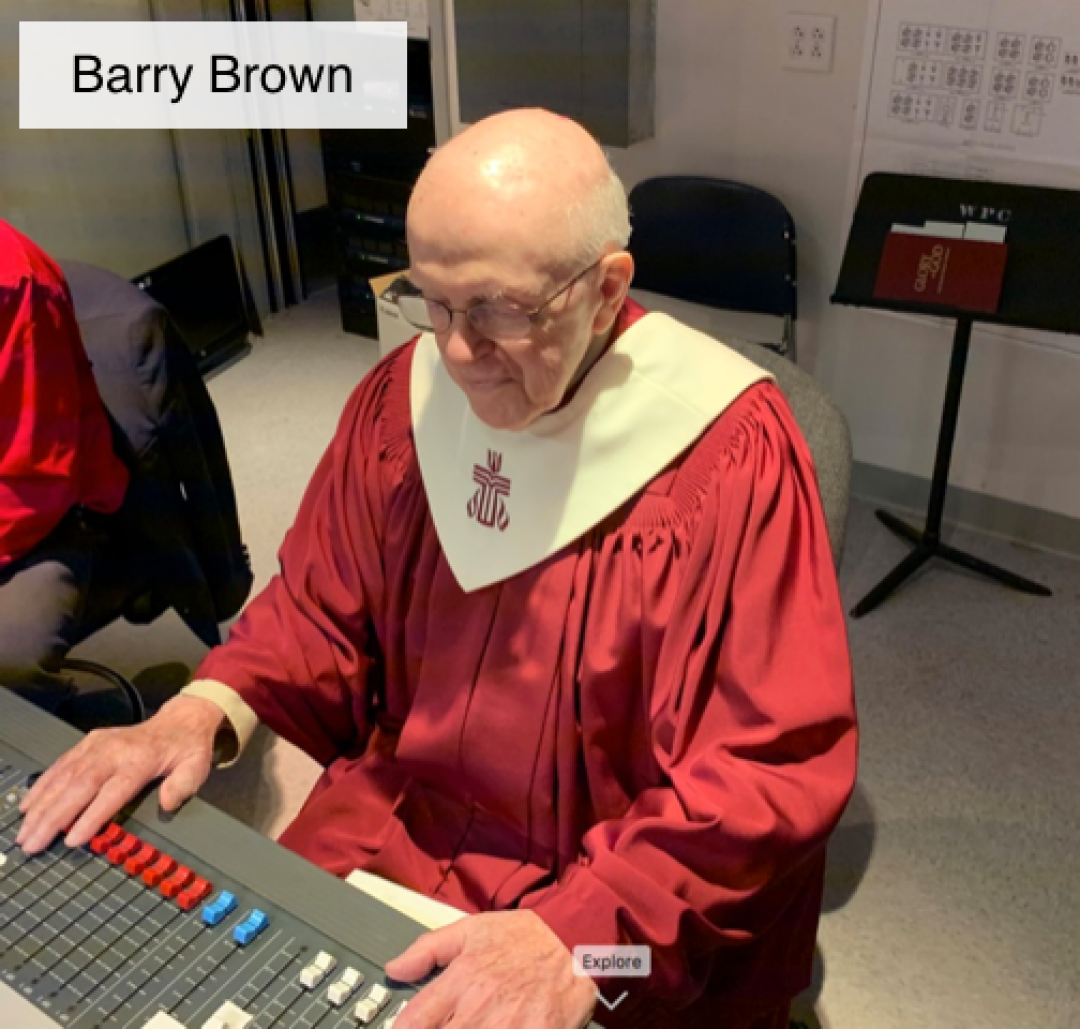 [EDITOR'S NOTE: Sadly, our friend and brother-in-Christ Barry Brown passed away on June 22, 2022. He is greatly missed.]
2020 brought the arrival of COVID-19. Fortunately, WPC was ready to continue our worship service due to the forethought of Barry Brown, the person behind the conversion to streaming our worship service over four years ago. When asked how this happened, Barry isn't sure but assumes it must have been some kind of divine intervention. However, the fact that we have an older congregation (many of whom aren't able to attend church services regularly) was one factor that motivated Barry to prepare a proposal for Session. Also, he may have had some inquiries about what could be done in this regard. Barry said he's a bit hazy on how it all got started. Nevertheless, we at WPC are glad it all happened and were so prepared when COVID hit.

What brought you to this area?
Sandy and I enjoyed coming to this area for vacations plus it is less expensive and warmer compared to living in Connecticut.

When did you become part of WPC?
Late 1995. Jim Weaver and the choir were the attraction. Turned out that Jim and I had something in common. We both attended the Fred Waring Youth Choral Workshop at Shawnee on the Delaware, PA. However, we never met because we were two decades apart.

How did you become interested in working on the tech and streaming at WPC?
It was an extension of my career.

What has been the most challenging part of this endeavor?
Dealing with the different technical gremlins that seem to pop up each week.

What did you do for work (what you did prior to retirement)?
Worked for GTE (now Verizon) for 34 years, my entire professional career. Had many interesting experiences during this period:
I was on the design team that created the first portable broadcast TV camera, which was used by ABC to cover the 1964 Winter Olympics and the political conventions held that year. Provided tech support for the network at the Republican convention at the Cow Palace in San Francisco.
I had some wild experiences on a business trip to Cairo, Egypt, as a member of a team attempting to sell a telephone network to the Mubarak government. First, the person who was originally assigned to provide tech support got sick at the last moment and I was selected to go in his place. This gave me about 24 hours to prepare for the trip. When I got to the hotel in Cairo holding my reservation, the room I was assigned turned out to be a cabana by the pool with a cot. After telling the desk clerk it was not acceptable, I was transferred to their Presidential Suite. Found out later that a VP on our team, who arrived after me, got the cabana.
I was responsible for the design and construction of a television studio at the corporate headquarters in Stamford, CT. There were many times when famous people would use this studio to record promos and PSAs. Among others, I got to meet and work with Victor Borge, Judy Dench, Joel Gray, Maggie Smith, and Ed Mitchel, the Lunar Module Pilot of Apollo 14.
In 1975, Sandy organized the Fairfield Colonial Singers specifically to help celebrate the 1976 Bicentennial. We appeared in 18th-century costumes, including wigs and footwear. We performed for various groups in Fairfield County and sang at the Capitol in Hartford. The most memorable experience was singing with Perry Como on two different occasions at the GTE Executive Christmas Party. GTE sponsored Perry's TV specials. We also produced a concert video using the studio in Stamford. This video received an award from the U.S. Industrial Film Festival for Creative Excellence in 1976.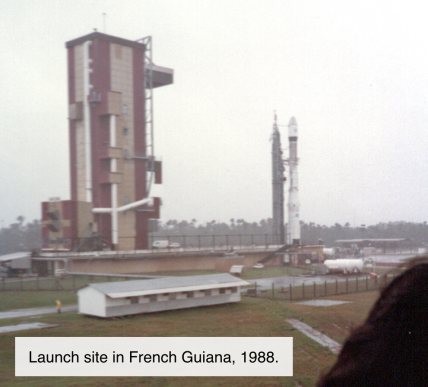 In 1988, travelled to the Arianespace Spaceport in French Guiana to produce a video of the launch of GTE's first communications satellite. Turned out to be during the monsoon season, which produced some challenges of keeping the video tape recorder dry and working properly.
In 1994, ended my tenure at GTE as Director of Engineering for GTE's Corporate Television Facility.

What is a book you have read in the past year that you'd recommend and why?
Chris Wallace's Countdown 1945. Although I was just a young boy at the time it describes, it is a real page-turner, digging into the planning, testing, and human anguish about carrying out the plan that ended World War II.

What is one thing people would be surprised to learn about you?
I'm a bit of an introvert.

Where did you grow up? What places have you lived?
Native of Bethlehem, PA. Lived in Batavia, NY, Bedford, MA, Old Saybrook and Fairfield, CT.

What is your favorite childhood memory?
Christmas in Bethlehem, PA

If you were to be or do something different in your life, what would that be?
So far, it's been a good life. I've had many interesting experiences and associations. My avocation has been singing in various choirs and being a soloist for some. I would have enjoyed singing Bach's "Mass in B-minor" with the Bethlehem Bach Choir but never got the chance. My father, uncle, and aunt all sung in this choir. I've been told my first exposure to this work was in a baby carriage outside of the church on the Lehigh University campus, listening through the open windows of the edifice. I've returned to their annual spring concert to sit through this immense work, and get goose bumps every time I hear its haunting passages.

What is a major event that changed your life?
Marrying Sandy.