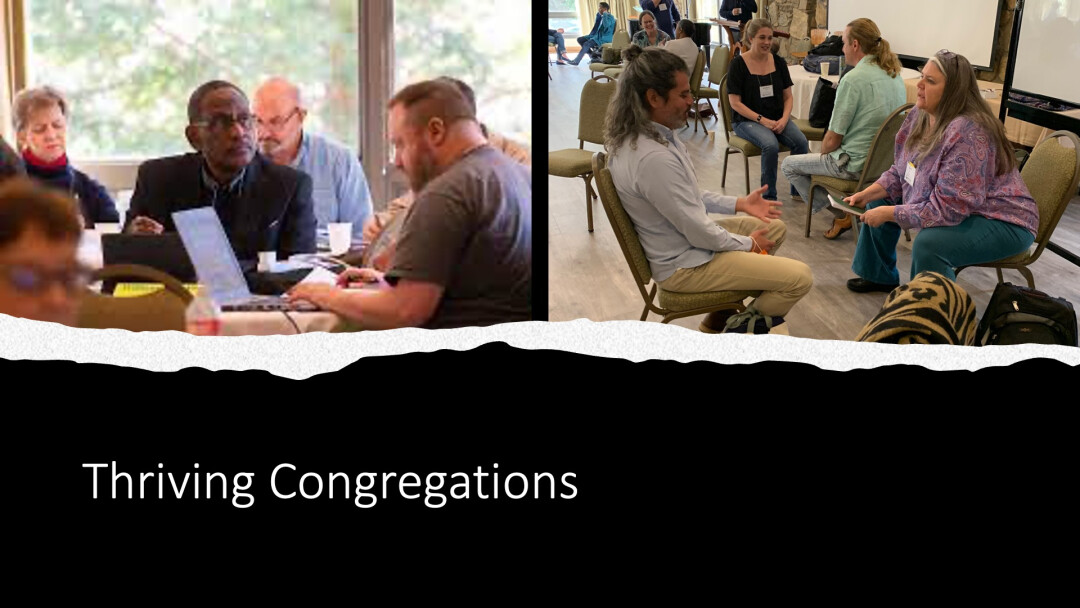 What Is "Thriving Congregations?"
Funded by a five-year grant from the Lilly Endowment, Inc., Montreat Conference Center has partnered with the Black Mountain School of Theology and Community to work with church teams from across the nation identifying practices for how community and congregational thriving can be linked. The desired result is that congregations will become more vital members of their communities, better equipped to listen and respond alongside neighbors, while becoming attuned to their own gifts and callings as followers of Christ.
Our overall goal is to strengthen our relationship as a congregation and develop a better understanding of who we are as a church and thus our place in the Williamsburg community. During this season of our journey, we are identifying common passions and struggles within our congregation and community. This isn't a process for a few people, but one that includes all parts of our church and all the people that make up our mission and ministries. No matter what you do, or where you are connected, you are already part of this work.
It has become clear to us that WPC is all about "Faith in Action" with many successful partnerships outside our congregation. Within this we have found patterns that begin with individual passions, which expand to include more people and a broader understanding of issues, and usually develops a number of community programs and connections. This though sometimes finds itself in areas where some people feel out of place or disconnected when they can't find the pathways to bring passions into practical realities or find community which feeds these passions.
We hope you will join us in these next steps as there are many ways to get involved with this work for the future of our church.
House Meetings: From June through October we will be having purposeful and directed meetings (a trained leader and scribe) of 8 – 12 people together (in homes, at church, or other common areas) to identify mutual commitments and concerns both for the larger community and for local neighborhoods. Through these we hope to begin building shared identities based on hopes, desires, and needs. To do this, we've worked on grouping members into geographical areas for ease of coming together for a meeting. We also are looking for more people willing to be trained as leaders and scribes, neither job is hard, but both necessary.
Theological/History Mapping: The history of our church and our neighborhood spans many years and documentation is plentiful and although we can research back to the 17th century, we want to concentrate on the early 20th century through today, looking not just at the church's history from the inside, but also how changes to our neighborhood impacted different groups of people, businesses and neighborhoods and how we may best serve the area WPC is physically located in today.
Relational Meetings: Also known as One to Ones, these dialogues help us to get to know you as an individual. We do these as a way to understand individual passions, stories, and connections that are already happening within our church. In doing these so far, we have found so many stories we never fully knew including; how the church took a lead in holistic hospice care before such a term even existed, how the size of the church changed significantly 35-40 years ago, how certain things have made people feel more or less welcome in the building at times, and much more!
So now, we need your help!
Want to have someone do a relational meeting with you?
Want to learn how to do your own relational meetings or observations and share info?
Want to host a house meeting, lead a house meeting, be a scribe for a house meeting?
Want to help with the history of our neighborhood? (theological geography)
Want to have someone come to speak with your group or ministry?
Want to join with us as part of the Thriving Congregations team?
Want to just talk and learn more about Thriving Congregations?
Contact us at or complete the form below.
Thriving Congregations Next Steps