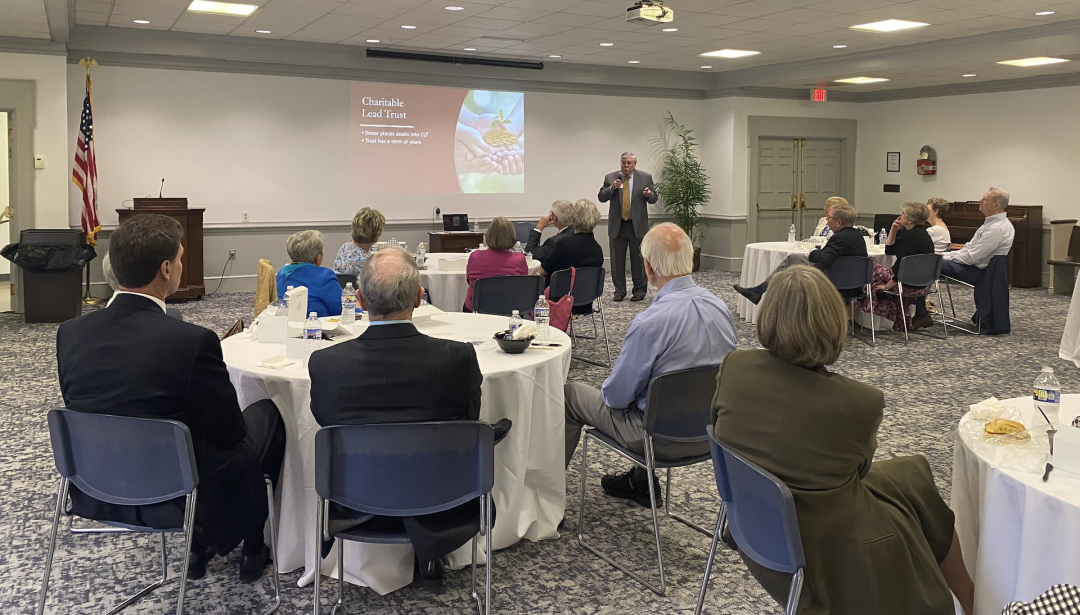 Program Officially Launched May 7
Williamsburg Presbyterian is a church that is good at giving back, with many passionate people who see needs in the community and bring their energy, ideas, and skills to create solutions. While we don't know what the future holds, we know with certainty that there will always be needs and that a key component of our ability to respond effectively will be funding.
On May 7 of this year, Williamsburg Presbyterian Church launched a new Legacy Giving Program to provide a new path for flexible funding of future endeavors of the church. The Legacy Giving Program team launched the program with a luncheon presentation by member Al Thomas, a nationally recognized consultant and speaker on philanthropic best practices.
Our team continues to introduce the program and provide information about planned giving. Members at some of the area continuing care facilities have been attending informal meetings within their communities, and we plan to introduce additional informational events as time in the church calendar permits.
Want to learn more about the program?
There are several ways you can learn more about this much-needed program at Williamsburg Presbyterian Church:
There are printed brochures available in the Welcome Center and brochure racks at the church.
The church website, on the dedicated page mywpc.org/legacy, contains background information, a recording of Al's presentation, FAQs, contact information, and more.
The legacy giving team maintains an email, , to reach out with any questions.
As always, you can contact the church office at 757-229-4235 or , to be connected with someone who can address your needs.
We are delighted that this program is coming to life, and for the exciting investment in the future of the church that it represents.
–The Legacy Giving Team: Sharon Jones, Ellen Peters, Al Thomas