WPC Families is rounding the corner to a fun and eventful end-of-winter/spring season! And remembers, as always, when we say "WPC Families," we mean YOU. Everyone is welcome to attend all of our events, as we are ALL part of the WPC Family.
We will have ANOTHER new event on Monday, February 27, at 5:30pm. Join us in Stevenson Hall for a Family Pizza Party! We provide the kits–provided by local pizza restaurant Maurizio's–and you make the pizza. We will bake them in the kitchen, and voilà, dinner is served!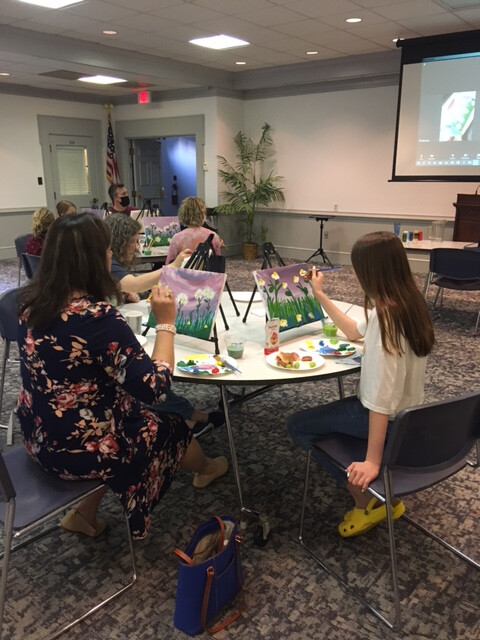 The ever-popular "Paint Night" is back on Monday, March 20, at 5:30pm. We have again invited one of the Jamestown High School art teachers to join us for the night, and lead us through painting our own interpretation of our Lent theme, "Are We Seeing and Being Beloved Children of God?". This will most definitely be a kid (and beginner painter)- friendly event. All supplies are provided, and for that reason, registration will be required. Look for registration information at the end of February.
On Saturday, April 1, at 10am, The Christian Education Ministry will be hosting a private (just for WPC Families!) Easter Egg Hunt! We will have two areas set up, one for the younger children (preschool through 2nd grade) to search for those special eggs, and a separate area for older children (3rd through 5th grade). We will be asking the congregation for donations of eggs and/or candy for this event, so watch for further information!
Returning for a third year on Saturday, April 22, at 10am, is the WPC Families Earth Day Churchwide Scavenger Hunt. New this year? Breakfast! Power up with a healthy breakfast in Stevenson Hall before scouring Williamsburg for the answers to this year's clues! Clues will be put together to show off the beauty of our town, and to help us notice and care for our earth. If you participated during the last two years, know that we will have DIFFERENT clues this year! EVERYONE is invited to participate, and families and friends are encouraged to participate together! Pick up your clues at the church in the courtyard or in Stevenson Hall after breakfast, and plan to park or walk from there. After you finish, come back to the church, and pick up a prize!
One final NEW event for the 2022/2023 WPC Families season is the Puppy Play Date and Heritage Humane Society Collection, on Saturday, May 6, at 10am in the church courtyard. Details are still being worked out, but plan to stop by with your (leashed, please!) fur baby, and get to know other dog-loving WPC Families. There will be snacks and treats for humans and canines! (Oh, and if you don't HAVE a dog, but LOVE dogs, you are still welcome to stop by for some puppy time!). Prior to the event, we will advertise Heritage Humane Society's most wanted "wish list" items.
We will finish up our season with the return of the popular Musical Instrument Open House on Saturday, May 20, at 10am (throughout the church). We had such a great time the first time around, we thought it was time to make a "joyful noise to the Lord" again! If you need a refresher, this event is kind of like the "touch a truck" events, but with musical instruments! Stop by any time that morning, bring the kids and the grandkids (or just yourself!), and try out some fun musical instruments! If YOU have a musical instrument that you'd like to introduce to our church children, please contact Jodie Davis ( ), so we can plan a spot for you! Light snacks and drinks will also be provided for everyone who attends.
Jodie is already looking ahead and making plans for the 2023/2024 WPC Families season (did someone say chili cookoff???). If you have a CE-budget-friendly idea for some fun activities for our WPC kids and families, pass it along! Let's have some fun!