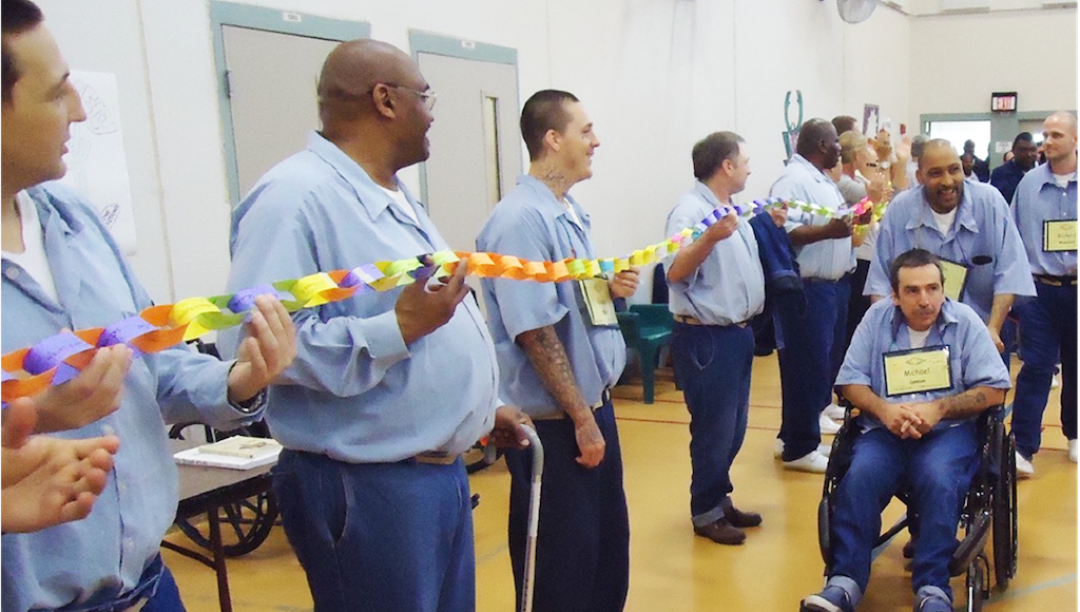 The mission of Kairos Prison Ministry International is to share the transforming love and forgiveness of Jesus Christ to impact the hearts and lives of incarcerated men, women, and youth, as well as their families, to become loving and productive citizens of their communities.
The vision of Kairos Prison Ministry International is to create and foster a community spiritually freed from the effects of imprisonment by reaching all impacted by incarceration through the Love, Hope, and Faith found in Jesus Christ.
Kairos volunteers represent the Christian faith and represent the Christian perspective. Kairos volunteers come from many Christian denominations but represent only those principles that they share. Kairos leadership is drawn from lay persons, although clergy play a vital role. Kairos is an overwhelmingly volunteer organization with over 20,000 volunteers worldwide. There are currently Kairos Prison Ministry programs in 37 states and in 9 foreign countries.
The Tidewater Virginia Kairos Prison Ministry is made up of members of Christian Churches throughout the Tidewater region. For an incarcerated person in Sussex II State Prison, a maximum-security prison, almost everyone has forgotten him – even friends and family. Most think God has forgotten them too. Kairos volunteers show God's love to those in prison so that they can regain their hope for a better life even though they are in a prison environment. Volunteers do this by spending time at the prison encouraging them to improve their relationship with God through structured programs and monthly meetings (called reunions).
In a typical year, the Kairos Ministry team does two 4-day workshops. In addition, there are two instructional workshops, and 8 monthly reunions. The reunions are run by the prison residents, but the Kairos volunteers attend as participants. There is a Kairos event of some kind once a month. Joe Avellar, CW Stacks, and Rob Brown recently spent 4 days in Sussex II State Prison, from October 20-23, 2022, for what was the 18th full 4-day program that the Tidewater Virginia Kairos Ministry team has led.
WPC Kairos Volunteers ask the WPC congregation to share God's love too. This is done twice a year (April and October) when four-day workshops are held in the prison.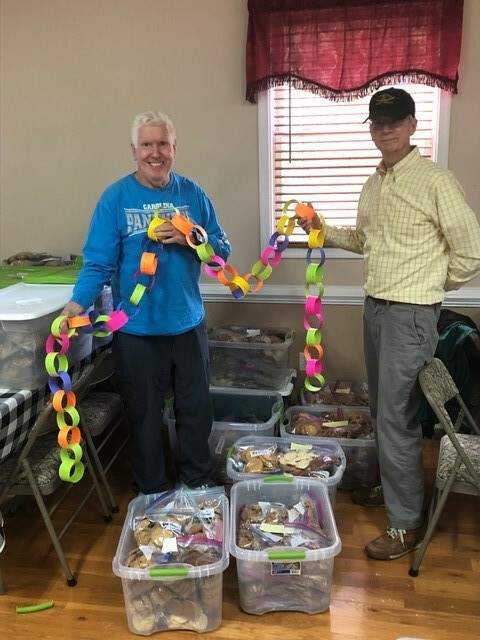 WPC Kairos Volunteers ask church members to bake 100 dozen cookies per volunteer. At first the incarcerated attendees perceive these are refreshments for the four-day event. By Saturday most understand that this is more than refreshments., i.e., another form of agape. Most cookies, however, a given out to each inmate on Saturday evening (a dozen each for the 1,200 inmates in the prison) after the workshop ends for the day. We take these to every cell in the prison. Often, we are asked: "Who made these cookies?" "Why are you doing this?" Many of the non-attendees don't understand that this is another form of grace given to them freely and without any strings attached. Someone they don't know made cookies for them and when baking the cookies prayed that this act of agape would open their eyes and ears to God. On the most recent visit, members of Williamsburg Presbyterian Church baked 214 dozen cookies.
Additionally, each Kairos Volunteer is given a list of times from the beginning of the workshop until the end of the workshop. The volunteers ask their congregation for a 15-minute commitment to pray for the program, the attendees, the officers, and the warden, and the families of everyone impacted by those who are incarcerated. The Kairos volunteers puts the first name of the prayer partner and time of the prayer slot of a three-inch piece of paper. The paper is made into a chain link and attached to all the other links. The result is an enormous "prayer chain" that encircles the gym in which we are meeting. It is a dramatic visual reminder of all the people who are thinking and praying for the workshop attendees and Kairos volunteers. Members of our congregation had their names written on 43 of the links of paper.