Join us in Preparing the [New] Way. John the Baptist reminded us that a way is being made in the wilderness for the coming of our Lord and it will be straight and even. This Advent we need to prepare a new way of getting ready for and celebrating incarnation; Christ's incarnation and our own incarnation of Christ's love.
---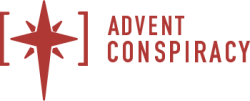 As you prepare, we invite you to explore and contemplate the ideas advanced in The Advent Conspiracy.
---
You will also find devotionals and Advent activities for all ages on our Family Resources page. This is a password-protected page. Please contact our Director of Education Ministries, A Williams, for access to the devotionals and crafts for this season.